Fact checked by
Tal Halperin
Reading Time:
7
minutes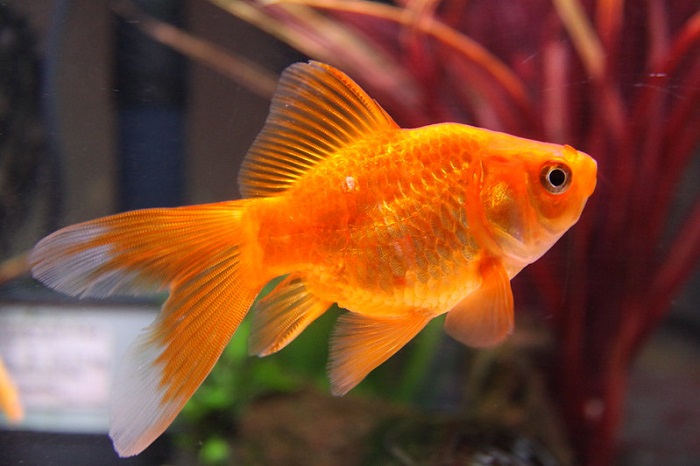 So, just how big can goldfish get? The average size of a goldfish depends on many factors and in fact, there is still a lot about these fish that is unknown to science in terms of how they fare in the wild. As they were originally ornamental fish that developed from captive carp in China, it is unpredictable as to how they will thrive in different conditions and this includes their size and growth rate.
In truth, we know that the maximum size for goldfish in captivity is roughly 12 inches or 30 centimeters. However, feral populations that have taken over lakes and rivers across Europe show different growth patterns to those in captivity, and goldfish growth in general can vary drastically based on the environment.
What Factors Affect Goldfish Size?
1. Breed
Whilst the word 'goldfish' often brings to mind a common or comet goldfish of the classic 'fairground' variety, there are actually a huge number of varieties of these fascinating fish, in all sorts of colors. If you're wondering 'how big do goldfish get?' it helps to know what kind of goldfish you have in the first place – and most importantly, whether it is fancy or hardy.
Hardy goldfish include the common goldfish, although the comet goldfish is slightly more popular, and the rest tend to fall under the umbrella category of 'fancy goldfish', although there is lots of variation within this.
How Big Can Comet Goldfish Get?
The comet goldfish is one of the most popular hardy goldfish, partly for their distinctive forked tails and partly for their delightful variety of colors ranging from black, calico and orange to the red and white sarasa comet. If you have wondered 'how big do comet goldfish get,' you will actually find these are one of the larger goldfish varieties.
Comet goldfish can grow to very large sizes in a tank, and those kept in a pond can grow even larger due to the increased space and enriched environment.
A happy, healthy, and well-kept comet goldfish can grow up to 12 inches or 30 centimeters and this is marginally more likely if you keep your fish in a pond as opposed to a tank. One of the largest comet goldfish in the world grew to 13-14 inches and weighed 2 pounds!
How Big Can Fancy Goldfish Get?
What distinguishes fancy goldfish from hardy goldfish? Whilst even among fancy goldfish there are varying hardiness levels, one of the major distinguishing factors is an egg-shaped body.
This genetic mutation first appeared in the Song Dynasty in China and has a number of significant effects on goldfish. For starters, fish with an egg-shaped body have less space for their swim bladder, which makes it more sensitive and means they expend more energy on staying afloat. This can stunt their growth size compared to hardy goldfish and is why fancy goldfish are generally smaller than your average comet or common goldfish.
Furthermore, the mutation itself leads to the body length of your fish being shortened, another reason why fancy goldfish don't grow as big.
Fancy goldfish can grow up to 8-9 inches (20 centimeters) in their hardiest varieties, such as the fantail goldfish. More sensitive fancy goldfish like the celestial or bubble-eye goldfish grow up to 5-6 inches or 15 centimeters.
2. Tank Size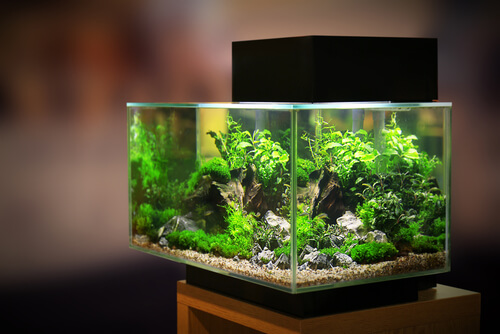 Tank size is one of the biggest deciding factors in how big your goldfish gets. It is a myth that goldfish grow to match the size of their tank. Instead, you should have a tank that is at minimum 30 gallons or 114 liters for fancy goldfish and even larger, at 50 gallons or 179 liters for hardy goldfish like the comet.
Tank shape can help reduce goldfish stress as well. A rectangular tank that is longer than it is tall and gives your fish plenty of room to swim up and down is perfect.
Many fishkeepers recommend adding an extra 10 gallons of water to the tank for each additional fish. This is true, but as tank density also affects how big your fish grow and their stress levels it doesn't hurt to go bigger and add an extra 20 per fish depending on how many you are planning on getting.
Goldfish prefer to be kept in groups, generally of up to 5-6 depending on the variety. Therefore if you are asking 'how big can goldfish get' or 'average goldfish size' before you get your fish and set p your tank, you are on the right track. A well-prepared aquarium is always better for your fish, will make things easier for you, reduce their stress, and ensure they reach their maximum size.
Remember that with changes in tank size also come changes in filtration: the ideal parameters are as follows:
A flow rate of 10x tank capacity for hardy goldfish
A flow rate of 4 or 5x tank capacity for fancy goldfish
If you're wondering specifically how to look after comet goldfish vs fancy goldfish like the black moor, remember that these fish have subtly different requirements in terms of tank set up, and this can also affect the sort of tank you get.
3. Stress
You may already know that fish kept in a small tank tend to get stressed. However, many factors can affect the stress levels and thus the growth of your fish. One of these is not just tank size but also tank density.
In fact, keeping a low density of fish in your tank actually improves their growth rate. This is because not only is there less competition between fish for food, but lower fish density also has a positive impact on water quality, which is one of the biggest factors in fish immune stress. Poor water quality can lead to signs of stress and sickness such as your goldfish not eating.
4. Diet
Feeding your fish a balanced diet can help them reach their maximum size and stay free from disease. This ideal diet mimics the conditions of slow-moving streams and ponds that carp would have experienced in the wild. You may have become used to the idea that pet store goldfish can simply be fed with pellet food. Whilst these foods are great for ensuring your fish's diet is nutritionally balanced, to optimize it, these guys need protein and vegetables too.
Depending on how hardy your fish is, you can feed either live, free swimming protein like daphnia or tubifex worms, or frozen protein. In addition, vegetables like half a shelled pea, little bits or lettuce leaves, or small broccoli florist are perfect to keep your fish's diet varied.
However, it's not just what you feed your fish, but also how frequently you feed them that can influence their growth rate. Science has found that fish fed little and often grew more rapidly than those fed the same amount of food in just one sitting. Likewise, a high protein diet can increase the growth of the wen in hooded goldfish types like the ranchu.
5. Sickness
Any kind of sickness will inevitably stunt the growth of your fish. This is because a fish only has a certain amount of energy to fuel itself and a fish that is expending energy on fighting off infection won't have the ability to put that energy into growth. It's important to be able to spot signs of infection, like your fish changing color, swimming unusually, or even showing signs that it is close to death.
However, sometimes sickness can be a vicious cycle, especially if your fish catches them while still young. Fish that are undernourished or have their growth stunted will likewise in turn be more susceptible to infections further down the line, and, as they are smaller, they are more likely to be outcompeted by tankmates that didn't get sick.
If this has happened to any of your fish, rest assured that there are ways to deal with it so that they can recover. Feeding an enriched diet with a balance of vegetables and proteins as opposed to just pellets can help, however, there are also ways you can supplement your fish to boost their immune strength and growth. For example, spirulina algae are not only great for your fish's color, but it has also been proven to help many species defend against diseases too.
6. Genetics
Just like how people vary in height, even within the same variety of goldfish, some fish simply grow larger than others due to genetics.
There's not much you can do to predict the full size of your goldfish, but by optimizing their tank size, stress levels, and diet, and by reducing sickness, you can maximize its genetic potential.
Conclusion
There are many myths and misconceptions about the size goldfish can grow to. When these pets first became popular, not as much was known about their well-being. As a result, practices developed that are now considered cruel, like keeping them in bowls. With more knowledge about these mesmerizing creatures, it's now possible to help your fish reach the maximum size – and live a healthy and happy life in which it thrives.
Frequently Asked Questions