Fact checked by
Tal Halperin
Reading Time:
9
minutes
Goldfish, one of the most popular pet aquarium fish species, are part of the Carp family and are notoriously messy and big eaters. Goldfish are known for producing tons of waste, which in turn adds up to a raised level of ammonia and nitrates in the water, which helps algae bloom.
As a result, you may want to add some Algae Eaters into your tank with your Goldfish. Certain Algae Eaters can live with Goldfish, but in truth, if you want to know 'can Algae Eaters live with Goldfish' the answer to this question is more complex than a straight yes or no. Read on to find out what conditions you need for a tank where both Algae Eaters and Goldfish can thrive.
Can Algae Eaters Live With Goldfish?
So, in setting up either a Goldfish or algae eater tank and looking for some tankmates, you may find yourself wondering 'Can Algae Eaters Live With Goldfish?' As stated above, this question is more complex than a straight yes or no but in summary, certain Algae Eaters CAN indeed live with Goldfish if the conditions are correct and you take measures to prevent aggression and territorial disputes.
So, if you want some more unusual Goldfish tankmates, read on to find out what factors affect whether your preferred Algae Eaters and Goldfish can coexist.
Factors That Affect Whether Algae Eaters Can Live With Goldfish
1. Aggression
Most Algae Eaters and most Goldfish are very peaceful fish. Therefore, aggression is not generally a problem but can develop if tank conditions are wrong.
Goldfish like to hang out mid-water but will often scavenge on the bottom for food. To prevent territorial conflict, you can feed your fish different foods at different times and ensure a variety of habitats in your tank.
2. Temperature
By far, one of the biggest other factors in whether Algae Eaters and Goldfish can live together is tank temperature. Many of the most popular Algae Eaters come from the tropical waters of South America or Southeast Asia. Goldfish, on the other hand, come from the cooler waters of China where they began as ornamental Carp that were bred in the outdoor ponds of Buddhist monasteries.
Author's Note: Certain Algae Eaters can tolerate cooler temperatures, including the Bristlenose Pleco, Rubber Lip Pleco, certain Cory Catfish, and all kinds of snails and shrimps.
3. Tank Size
Tank size is without a doubt one of the most important ways of preventing aggression. Most Goldfish species need a tank of at least 30 gallons or 114 liters to thrive and most Algae Eaters need a tank of slightly less, of around 35 gallons or 160 liters. Factor in the idea that you will be keeping both fish, and potentially a group of Goldfish, and you will find that a tank of at least 50 gallons (227 liters) is ideal.
What Are Some Algae Eaters That Can Live With Goldfish?
As explained above, apart from aggression, temperature is a major factor in whether you can add Algae Eaters to a Goldfish tank. The following Algae Eaters are all nonaggressive and can thrive in cooler temperatures of under 73 F or 23 C, making them perfect for keeping with fancy Goldfish that prefer slightly warmer water anyway.
1. Garra Or Doctor Fish
These little fish are one of the best lesser-known Algae Eaters for any aquarium with cooler water temperatures. Hailing from the Middle East, they can tolerate the upper range of the Goldfish temperate range just fine, and they are mesmerizing to watch. They are also Cyprinids, or part of the Carp family.
They quickly and easily gobble up all algae, although remember that they should still be fed every so often to ensure they are getting adequate nutrition.
| | |
| --- | --- |
| Temperature | 60-75 F or 16-24 C |
| Size | Up to 6"/15 cm |
| Lifespan | Up to 12 years |
| Feeding | Omnivorous, enjoys tropical fish pellets or flakes enriched with free swimming live protein |
2. Snails And Shrimps
If you're looking for an invertebrate, algae-eating companion for your Goldfish, look no further. There are many types of snails that can work with Goldfish, including mystery snails, ramshorn snails, and Malaysian trumpet snails.
Just like snails, shrimps make great invertebrate tankmates. Cherry shrimps and ghost shrimps are some of the most popular and they grow large enough that they won't end up as Goldfish food.
Author's Note: What's good about all these species are big and hardy enough that they won't be bothered either by the pollutants your Goldfish produce or by the fish themselves.
3. Bristlenose Pleco
The Bristlenose Pleco is a peaceful south american bottom dweller that can grow up to 7 inches long. There are many Pleco Fish to choose from if you want a tropical tank, but this one is one of the most suitable for a Goldfish tank temperature-wise. It has a sucker mouth with which it can cling to not only the sides of the glass tank but also decorations such as driftwood.
It's a good idea not to use gravel with these fish because it hurts their delicate stomachs. Instead, you can use sand or smooth, large pebbles, both of which are good for Goldfish too.
| | |
| --- | --- |
| Temperature | 72-78 F or 22-26 C |
| Size | Up to 7 inches or 18 cm |
| Lifespan | 10-15 years |
| Feeding | Algae wafers supplemented with live food and fresh vegetables 2-3 times per week. They cannot live off tank algae alone |
4. Rubber lip Pleco
The Rubber Lip Pleco has very similar care needs to the Bristlenose Pleco but they lack the multitude of bristles on their nose for starters and have a slightly differently shaped body. Nevertheless, in a large enough tank, the two can co-exist not just with each other but with Goldfish too, and they are a fantastic alternative option if you want a less common fish.
| | |
| --- | --- |
| Temperature | 72-78 F or 22-26 C |
| Size | Up to 7 inches or 18 cm |
| Lifespan | 10-15 years |
| Feeding | Algae wafers supplemented with live food and fresh vegetables 2-3 times per week. They cannot live off tank algae alone |
5. Cory Catfish
Cory Catfish is a broad genus of bottom-dwelling fish that come from mildly acidic, softwater environments across Central and South America. They are hardy, good at coping with fluctuations, and they make great, peaceful tankmates.
Like the Pleco, they can't live on algae alone, but they're great at keeping your tank clean, especially if you have gravel, which can often collect bits of old, uneaten food and detritus. They're also happy at cooler temperatures, as hot temperatures can even be detrimental, causing them to breathe air from lack of oxygen.
| | |
| --- | --- |
| Temperature | 72-78 F or 22-26 C |
| Size | up to 4" or 8 cm |
| Lifespan | 4-6 years |
| Feeding | Algae wafers and sinking pellets enriched with vegetables |
How To Set Up A Community Aquarium Of Algae Eaters And Goldfish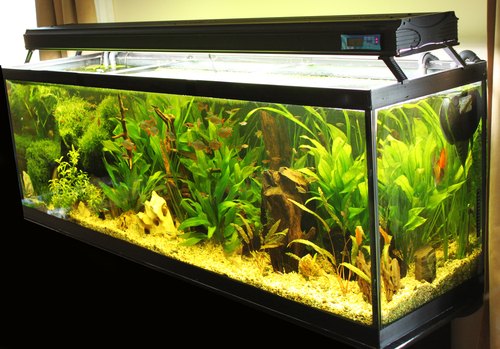 It's not hard to set up a community tank for both of these fish. Even though sometimes they need different conditions, there is a lot of overlap. Thus, it's all about striking a balance.
1. Ensure Your Environment Is Correct
Temperature
The ideal temperature for both Algae Eaters and Goldfish to coexist is around 70 to 73 F (21-23 C). Any lower, and your Algae Eaters may suddenly find they don't have enough energy. Higher, and your Algae Eaters may thrive, but it may be too much for your Goldfish. This, keeping a tank with both is a fine balance.
Substrate
Goldfish love to pick up gravel, but if you are planning on keeping bottom-feeding Algae Eaters like Plecos and Cory Catfish in the tank with them, opt for sand or smooth, large pebbles instead. Gravel is too rough on the delicate stomachs of these fish as they move along the bottom of the tank.
Plants
Goldfish are voracious eaters that like to nibble at plants. However, including fast-growing plants in drifts in your tank provides plenty of options for your Algae Eaters to hide in. This is important as these shy fish do not like to feel exposed or out in the open, which would make them vulnerable to predators in the wild. In addition, plants help filter nitrates and ammonia.
Filtration
Despite the fact that Algae Eaters keep the tank clean, you simply cannot have a Goldfish tank without filtration. You may hear stories of self-cleaning tanks that have enough plants to create an ecosystem, but in reality, an ideal environment for both Hardy Goldfish like the Comet, and Fancy Goldfish like the Fantail has plants, a filter, and some Algae Eaters, as all of these things help benefit the water quality – the biggest factor in ensuring your fish stay healthy
Author's Note: Goldfish are messy, but they are not always strong swimmers and neither are Algae Eaters, Thus the best option is a hang-on back or sponge filter that filters a flow rate of 4x tank capacity per hour. Combined with plants and Algae Eaters, you will soon have crystal-clear water quality for all your fish.
2. Choose The Right Fish
Now your tank is set up correctly, ensure you've chosen suitable fish as outlined in previous parts of this article. In addition, bear in mind what variety of Goldfish you have. Fancy Goldfish like the Ranchu, Bubble-Eye, and Telescopic Goldfish tolerate slightly warmer conditions as they were bred indoors in their native habitat in China.
3. Acclimatize The Fish Correctly
Many aquarists recommend adding your Algae Eaters after you add your Goldfish although both these species are relatively peaceful. Either way, when you bring your fish home in a plastic bag you will have to acclimatize them to the new water.
Float the bag in your new tank to equalize the water temperatures. If you do this for about an hour, you will find the water inside the bag has become the same as the tank water.
Open the bag that has your Goldfish in it. This allows the tank water to slowly fill the bag and your Goldfish to swim out of its own accord. This is less stressful to the fish and ensures they don't develop health issues from the stress of moving to a new tank.
Watch as your Goldfish swim out on their own to explore the new tank, and then remove the plastic bag.
Common Issues To Look Out For When Keeping Algae Eaters With Goldfish
Maintaining a successful tank with both these species of fish is not hard, but there are a few issues you should look out for. These are generally as follows:
1. Aggression And Conflict
Aggression can be a sign of many things, for example, common breeding behaviors can sometimes look like aggression. However, aggression can also indicate that water quality is poor and thus your fish feel stressed, as well as showing your fish are territorial and don't have enough room.
If this is the case, you may have to consider upgrading to a bigger tank.
2. Water Pollution
Water pollution can manifest as cloudy water, abnormal growth of algae up the tank walls, and fish acting abnormally, such as showing signs of lethargy.
This is the first sign your fish may be sick from water conditions and it's important you change the water immediately, even if you have Algae Eaters. Remember, Algae Eaters eat algae but they are not a substitute for a filter.
Author's Note: If you notice too much algae and it looks like your algae-eating fish can't handle it, you can scrape it off with a specialist algae scraper.
3. Overfeeding
Overfeeding can manifest as cloudy water or your fish developing digestive issues. Watch out for fish that look bloated or are having trouble swimming. Also, ensure that you remove all uneaten food after five minutes of feeding your fish.
4. Temperature Imbalance
One reason fish can get sick is if the temperature climbs too high or drops too low. Maintaining the right temperature for both Algae Eaters and Goldfish can be done easily with a tank thermometer.
If you see fish acting lethargic and you are sure it is not diseased, it may be the water temperature is too low. A temperature that is too high, on the other hand, can make your Goldfish less able to withstand stress.
5. Diseases
Many common fish diseases arise from dirty water, another reason it's important to use a filter. Remember, Algae Eaters don't clean up ammonia and nitrites!
Goldfish and algae-eating fish are both susceptible to many of the common diseases of freshwater fish including bacterial and fungal infections. Goldfish like slow-moving water, so don't get a filter that is too strong – opt instead for a gentle sponge filter.
Final Thoughts
So there you have it – the short answer to the question 'can Algae Eaters live with Goldfish' is that yes, certain ones can, provided you get the conditions right, and hopefully, this guide has shown you how to ensure you create a peaceful community tank where both species can thrive.
Frequently Asked Questions