Fact checked by
Tal Halperin
Reading Time:
8
minutes
Did you know that black goldfish are more common than you might have thought? In fact, black coloration in goldfish is actually pretty widespread. In fact, this is a perfectly natural and healthy mutation that can add intrigue to your tank and make it stand out.
This article takes a look at goldfish varieties that are naturally black and how to care for them, plus reasons your goldfish may be turning black when it's not meant to.
The Top Three Black Goldfish Types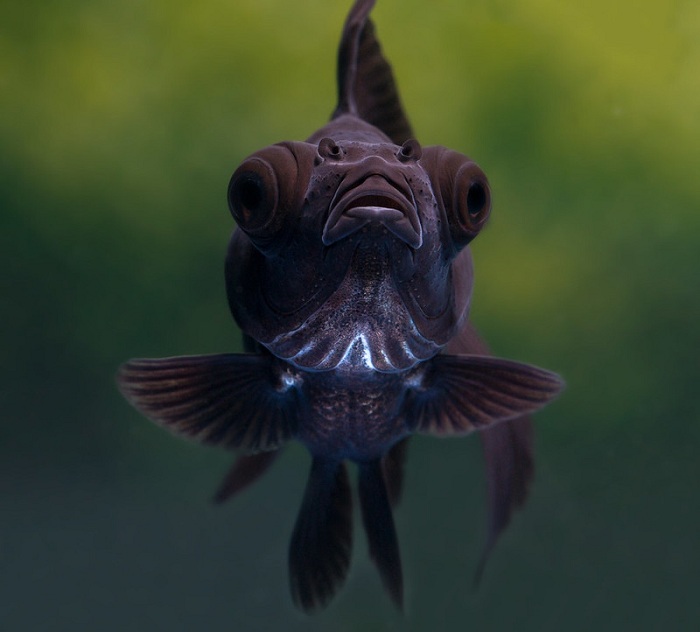 For many, black goldfish are some of the most beautiful and striking fish. They immediately draw the eye when you walk into an aquarium shop, and you may be tempted to take one of these fish home at once.
However, remember that not all black goldfish have the same requirements. The only thing that unites them is their black color, otherwise, they have very individual needs. So, if you want to find out more about how they differ, read on!
1. The Black Moor Goldfish
The highly popular black moor goldfish is one of the most common black goldfish types. It's also the one you are most likely to see in your local pet store. This fish is recognizable not only by its striking color – often it is the only black fish in the shop – but also by its telescopic eyes. These can be found in other goldfish, but only the black moor has them in addition to its delightful velvety looks.
Black moor goldfish are slow swimmers with poor eyesight, but are peaceful, calm fish that love to hang around mid-water. As they didn't develop in the wild, these qualities don't harm them. However, they mean it's important to take care of them correctly.
Origins:
The black moor goldfish comes from China, where goldfish were first domesticated. During the Ming dynasty and afterwards, fish began to be kept indoors which allowed them to develop characteristics like telescopic eyes that would prevent them surviving elsewhere.
Requirements of black moor goldfish:
Parameters: 30 gallons (114 liters) plus 10 gallons (38 liters) per extra fish
Filtration: Filter flow rate 4x tank capacity 58 – 74 F (14 – 23 C)
pH level: 7 – 8
Environment: these fish can be shy and thus they like lots of plants where they can hang out and feel sheltered. Suitable plants include cabomba, anubias, java fern, and java moss.
Tankmates: Black moors are happiest in a group of four or five other black moor goldfish. Other egg-shaped goldfish can fit, but they prefer hanging out with their own kind.
Diet: Like any goldfish, they need a balanced diet with pellets as a base and added vegetable matter and protein. Just remember that egg-shaped goldfish can be prone to indigestion if overfed. Likewise, buying daphnia or other sources of protein in frozen form is better as they can't swim well enough to catch live invertebrates.
Difficulty level
The black moor is one of the easier fancy goldfish to take care of, due to its gentle nature and calm personality. Therefore, it can be suitable for beginner aquarists, though may not always be advised for kids.
2. Black Comet Goldfish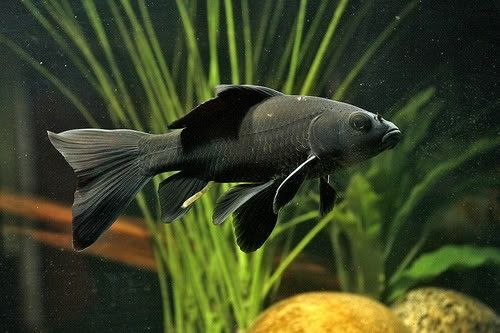 The black comet goldfish can be much trickier to find than the black moor or even some other black goldfish. This is because the most common and popular kind of comet goldfish is the orange comet.
The comet is one of the hardiest goldfish, and if you do manage to track down a black comet goldfish, you will find they are no different!
The comet goldfish already has a mesmerizing and striking look. With the way their forked tails draw the eye, it is easy to see how these fish got their name. The dramatic silhouette formed by a black variety adds to this, and luckily, these fish are really easy to take care of too.
Origins:
Like the other color varieties of the comet goldfish, the black comet was developed from 1880 onwards in America.
Requirements of black comet goldfish:
Parameters: 55 gallons (209 liters) 20 gallons (76 liters) per extra fish
Filtration: Filter 5x flow rate 54 – 73 F (12 – 23 C)
pH level: 7-8
Environment: An exciting and varied environment with lots of plants, rocks, and places to swim and explore is best for these curious, active fish.
Tankmates: Keep the comet goldfish with other flat-bodied goldfish like the shubunkin, or common goldfish. Avoid fin-nipping fish and smaller invertebrates that can become a snack for your fish. Never mix comet goldfish and egg-shaped goldfish!
Diet: As these fish are smart and love to be kept entertained, offering live protein is great as they can swim after it. Otherwise, you can feed them mostly on good pellet food and supplement vegetable matter.
Difficulty level
The comet goldfish is overall a really easy to take care of fish, so if you're looking for a black goldfish that is suitable for kids or beginners, this is a great option.
Things get more challenging if you decide to keep your goldfish in a pond, as the water parameters are slightly harder to monitor, although pond environments can help your fish have the space they need.
3. Black Lionhead Goldfish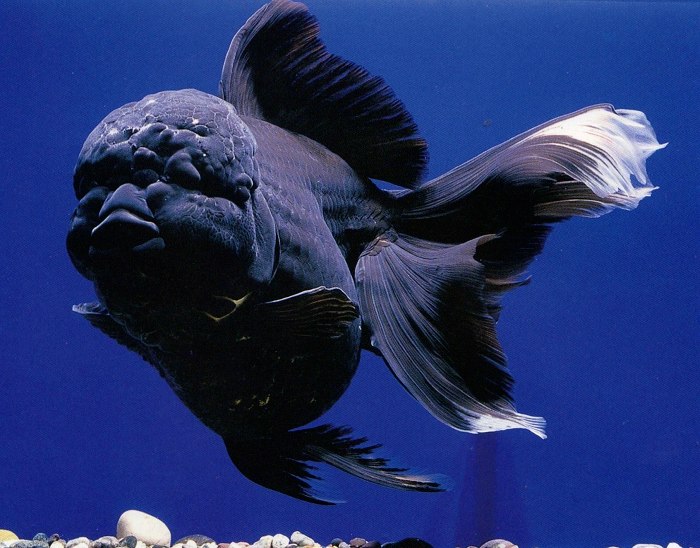 Lionhead goldfish have very interesting looks, though they are not for beginners. However, even amongst these stunning fish, the eye-catching black lionhead goldfish stands out. One benefit of their dark coloring is you can see their cute and attractive shape more easily, which is partly caused by the raspberry-shaped growth, or 'wen' on the top of their heads.
Tankmates should be chosen carefully, because of their long trailing fins as well as the sensitivity of the wen. However, either way, the black lionhead goldfish is best suited to an experienced fishkeeper and is definitely not for kids.
Origins:
The lionhead goldfish in general was developed in China where it then passed to America via Japan. It is not known when the first black lionhead goldfish was sighted, but as the breed became more popular variations like black or blue quickly developed.
Requirements of black lionhead goldfish:
Parameters: 30 gallons (114 liters) plus 10 gallons (38 liters) per extra fish
Filtration: Filter flow rate 4x tank capacity 58-73 F (14 – 23 C)
pH level: 7 – 8
Environment: because of the delicate wen, or raspberry-shaped growth, on the head of these goldfish, it's advisable not to have any sharp objects in the tank. This means that driftwood is pretty much impossible, and due to their slow swimming abilities, other popular tank features such as a bubble stream are also not a good idea. However, these fish do enjoy plenty of plants to hide in.
Tankmates: Always group them with similarly shaped goldfish that also have limited swimming ability and similar tank requirements. This means orandas, ranchu goldfish, and potentially black moor or bubble eye/telescope eye goldfish.
Diet: A high-quality diet of pellets with added vegetable matter and protein is best for these fish. Their egg-shaped bodies make them more prone to swim bladder disease if they are overfed. Feeding also promotes ammonia production, so be especially careful not to overfeed these guys, as they are very sensitive to ammonia and other toxins.
Difficulty level
No lionhead goldfish is suitable for beginners because of how sensitive they are to water quality. Therefore, if you haven't already had plenty of experience ensuring your tank is kept in top condition, your fish can fall prey to bacterial or viral infections.
Wondering 'Why Is My Goldfish Turning Black'?
If you have ever asked 'Why is my goldfish turning black?', you will know this can sometimes be an alarming sight. Some goldfish are black naturally and this is perfectly natural and healthy for them. However, occasionally goldfish of other colors can turn black as a sign of disease or stress. Color changes can signify a lot, so read on to know what you're looking for.
1. Ammonia Poisoning
One of the deadliest types of water poisoning in your aquarium is ammonia poisoning, which directly causes black patches to form around your fish's gills and tail. If you haven't had experience with this, it can look confusing and worrying, and you would be right to be concerned.
It's important to spot early, especially if your goldfish is also exhibiting other abnormal behavior. Did you specifically buy a black or bicolor fish? If not, it's best to do an ammonia test, and if levels are above zero, remove the fish to a separate tank immediately and thoroughly clean the first one. In fact, with any color change to black, it doesn't hurt to check toxin levels – dirty water also makes it easier for your fish to develop parasites!
2. Parasites
Black spot disease is called by a small flatworm-like parasite, though it's not hugely frequent. It's also very easy to tell from ammonia poisoning. Whilst ammonia causes big black patches across your fish's body, black spot, true to its name, causes little black spots instead.
In the wild, the parasite lives part of its lifecycle in fish-eating birds, but in aquariums, it is normally transmitted by snails. It can be treated with a saltwater bath in a quarantine tank.
Environmental Conditions
There can be instances when your fish simply turns darker due to poor lighting. Did you know that lighting actually affects the cells responsible for your fish's pigment, regardless of what color it is?
Fish cells will produce more melanin in darker conditions. This is because the fish is adapted to blend in with the surrounding environment for camouflage.
After ruling out ammonia toxicity and parasites, the addition of a good quality LED light will ensure that your fish changes color back to what it was before.
Final Thoughts
A tank full of only black goldfish can be very striking. Plus, mixing in a couple of black goldfish with a group of fish of other colors can also make them pop out.
Ultimately, black goldfish may look exotic, but their coloring is down to a simple genetic mutation. They are no more difficult to care for than other goldfish colors of the same breed!
Frequently Asked Questions